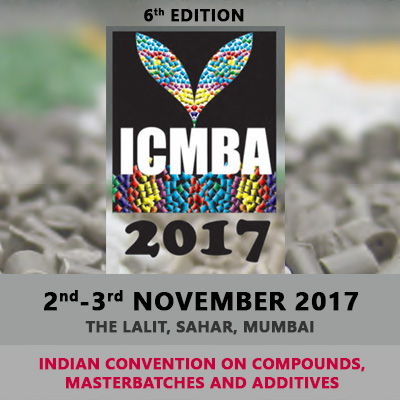 Event details
Thursday | November 2, 2017 to Friday | November 3, 2017
All Day
The Lalit | Mumbai
+91 22 2430 6319
India's only dedicated event for masterbatches, additives & compounding.
Powered by Popular Plastics & Packaging
Indian Convention on Compounds, Masterbatches & Additives Conference (ICMBA 2017) aims to bring aboard contemporary content from learned speakers representing world leaders, adhering to the subject of masterbatches, additives and compounding. Both masterbatches and compounds are central to performance and value-addition in the Indian Thermoplastics segment, which in tum is a key link in vital growth segments in India like Packaging, Automotive, Infrastructure, etc. ICMBA 2017 is the sixth in a series of biennial events. The inaugural edition (2007) was a huge success with over 210 business delegates attending the proceedings.
The next one (2009) surpassed its success, and saw a record 348 delegates attending the event, propelling it to being recognized as the leading event of its kind globally. This was further reinforced with the last 3 editions (2011, 2013 & 2015) which saw over 400 delegates in attendance. The emphasis at this edition would be on better formulating and manufacturing practices. Over 25 papers would be presented, each different from the other, and addressed by expert speakers representing organisations who are world leaders in the technologies and products they will address.
There will also be a provision for product and literature display, expanding the scope of interaction and knowledge interchange.
WHO SHOULD ATTEND
The programme has been designed to suit the technical and commercial needs of the following segments in the plastics, polymer and packaging supply chain:
Pigment/Colorant Manufacturers
Additives Manufacturers
Engineering Plastics Segment
Compounders
Masterbatch Manufacturers
Machinery and Ancillary suppliers
Users of Masterbatches and Compounds
FMCG Plastics Industry
Polymer and Resin Manufacturers
Plastics Processors and Converters
White Goods manufacturers
Automotive Plastics Segment
Plastic Packaging Segment